"Every single moment felt charged with energy... I felt as if I were attending mass, or an exorcism, or maybe some ancient pagan ritual re-enacting myth.....Here was no lesson to be learned, but an experience to be felt." Night-Tinted Glasses
"MacBeth is an old, dark tale; MacBeth in Rhythm is a surprisingly fresh, startlingly beautiful telling of it." Theatre Ghost
MACBETH in RHYTHM - May 4th, 5th, and 6th.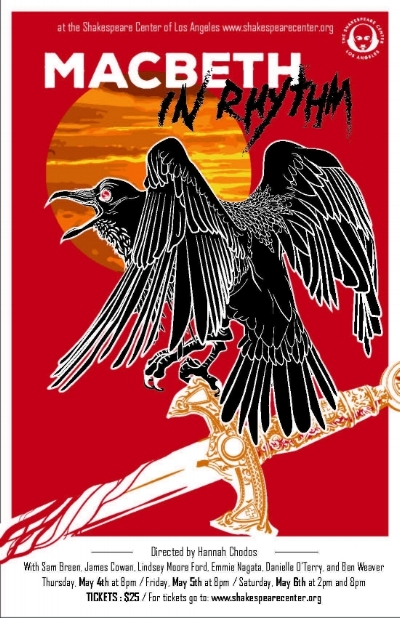 Driven by the unyielding momentum pulsing through Shakespeare's play, MACBETH in RHYTHM is a cascade of live rhythms, polyphonic singing, and raw physicality.
Six performers playing 15 characters pace the audience through cycles of violence and explore the pathology of ambition amidst the responsibility and sacrifice of leadership.
Approaching Macbeth primarily as a musical composition, MACBETH in RHYTHM reveals a riveting narrative through the sounds and silences of Shakespeare's language.
MACBETH in RHYTHM is an experimental ensemble performance directed by Hannah Chodos, with performers Sam Breen, James Cowan, Lindsey Moore Ford, Emmie Nagata, Danielle O'Terry, and Ben Weaver. The lighting design is by Bosco Flanagan and the costumes are being designed by Amanda Wing Yee Lee.
The Shakespeare Center of Los Angeles' 2017-Year of Macbeth continues with four performances of MACBETH in RHYTHM at The Shakespeare Center of Los Angeles, 1238 West 1st Street in downtown Los Angeles. Performances are Thursday, May 4th at 8pm, Friday, May 5th at 8pm, and Saturday May 6th at 2pm and 8pm. All seats are $25 and can be purchased at www.shakespearecenter.org
Use our secure form below to purchase your tickets to MACBETH in RHYTHM